VRAYLAR Support &
Resources
Helpful tools for your journey
VRAYLAR effectively treats bipolar I depression and acute manic or mixed episodes of bipolar I in adults, providing full-spectrum relief for all bipolar I symptoms. But controlling the mood swings of bipolar I disorder is about more than medication. Resources that may help optimize your treatment include: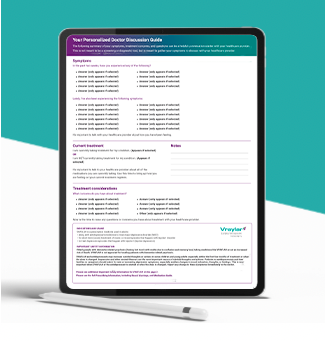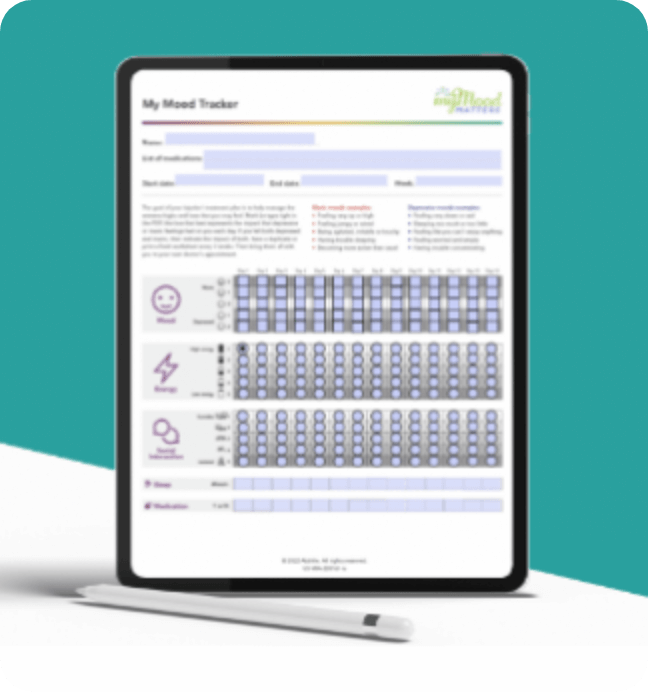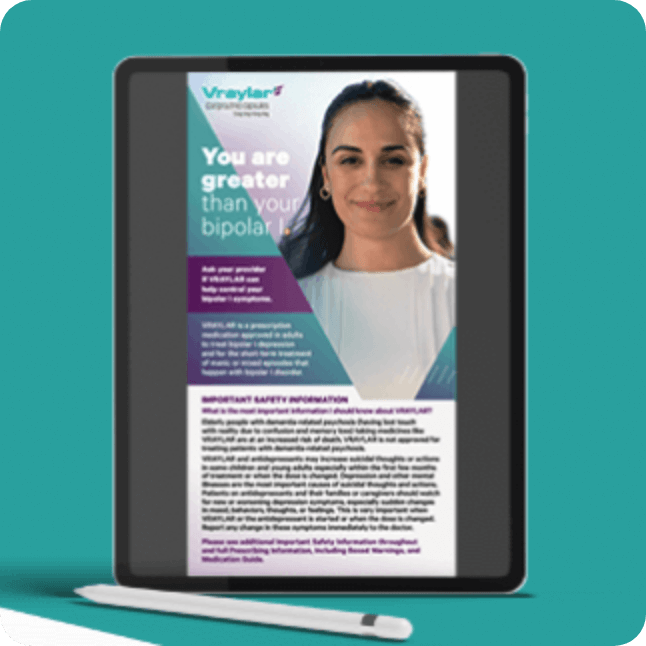 Bipolar I

stories of strength

Listen to real people with bipolar I disorder share their experiences. Hear more about the signs and symptoms they face during their journey.

The people featured in these videos are sharing their individual experiences with bipolar I. They have been compensated for their time. Individual experiences with the condition and treatment will vary. Not all of those featured are currently taking VRAYLAR. These videos are brought to you by AbbVie.

Talk to your healthcare provider to see if VRAYLAR may be right for you.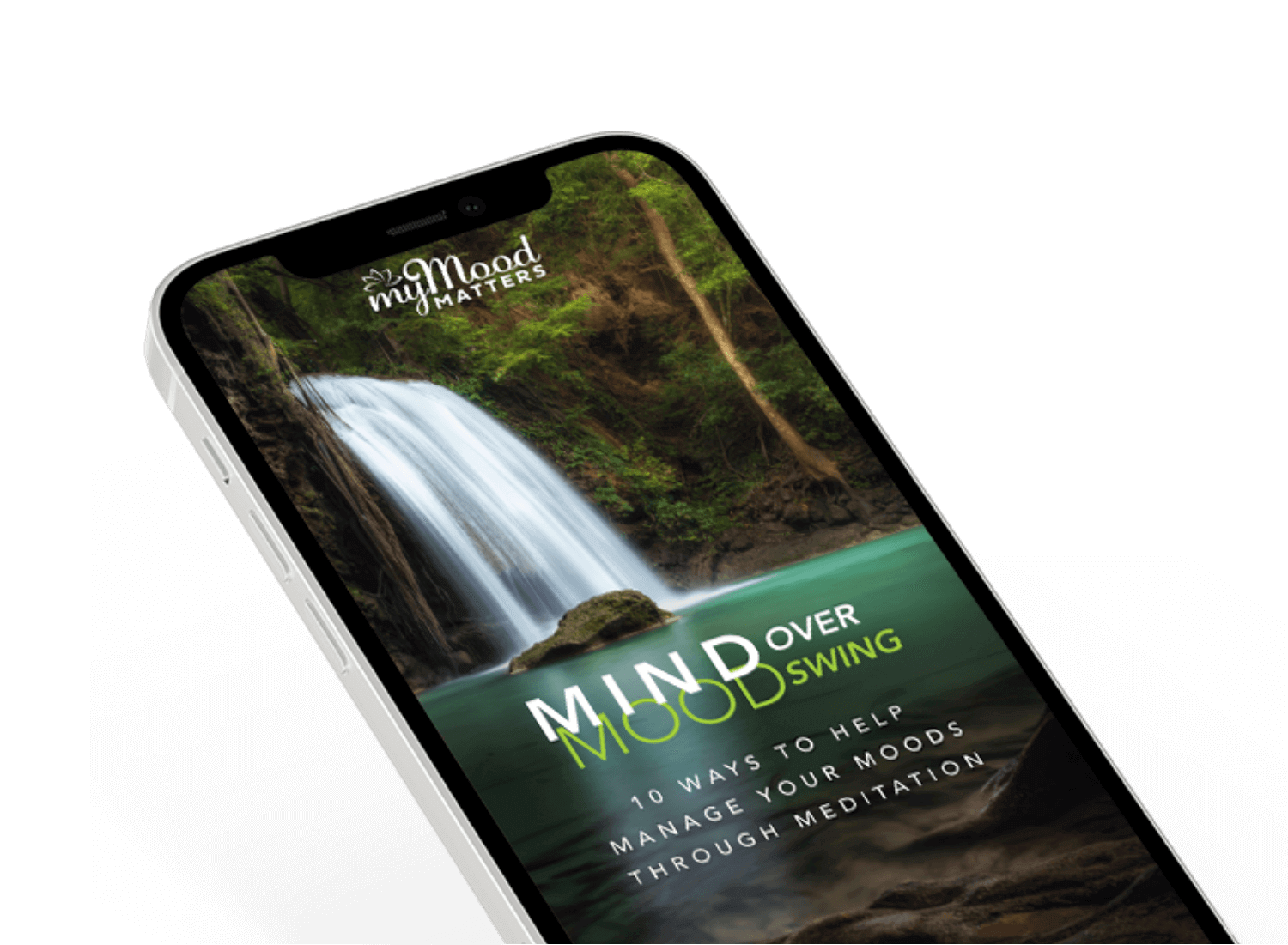 Find balance with My Mood Matters
My Mood Matters provides support and resources to help you take control.
Sign up for My Mood Matters to get tips, tools, and resources sent right to your inbox. And as a thank you for enrolling, you'll receive our mobile meditation guide, "Mind Over Mood Swing."
Peer support groups
Feeling isolated? Know that you are not alone. Connecting with other people who have bipolar I disorder may help you stay on track with your treatment journey and learn new ways to manage your condition.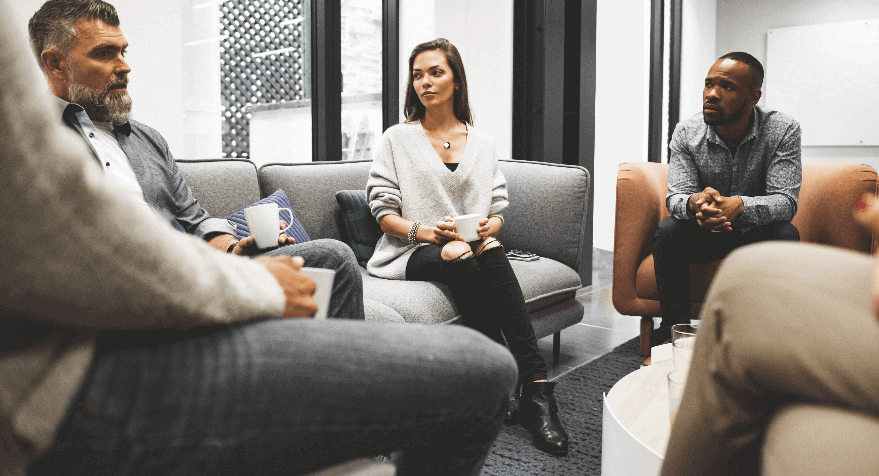 Friends and family support for bipolar I
Support for friends and family
When someone has bipolar I disorder, it affects not only them but the people in their lives. Finding a support network can be helpful for your loved one's journey. But supporting your friend or family member can demand a lot of empathy and energy from you.
The National Alliance on Mental Illness provides information and support for family and friends that you may find helpful.
Important questions for caregivers to ask
Tip: Take a screenshot of this list to discuss with a healthcare provider.
How do I help if my friend or loved one has a manic or mixed episode?
What are some ways I can support my friend or loved one?
How do I avoid falling into "compassion fatigue" or burning out?
How do I help if my friend or loved one has a depressive episode?
Where can I get more help and information on being a good caregiver?
What are some ways I can take care of myself, too?
Have you already been prescribed VRAYLAR?
Check out the VRAYLAR Starter Kit for helpful resources to get you started.
Find a healthcare provider
Use our tool to locate a provider in your area.
Save on VRAYLAR
Learn more about the VRAYLAR savings program.
*Terms and conditions apply. Available to commercially insured patients only. See Terms and Conditions for full details.